Greetings mötley college football fans! It's liveblog day - that time of the year to chronicle the life of a crazy college football fan on rivalry Saturday. I will spend an entire day and a good portion of the evening watching games and throwing out my thoughts on the intarwebs for all see. My copilot Balijeet is in town this weekend, so I've got someone to bring me Krispy Kreme donuts this morning. Feel free to stop by my casa for the festivities and/or call/e-mail me your musings. All times listed are Pacific Standard Time. On with the show!
05:59 - Once again, you're looking live at ... a very, very tired Dr. T on the couch, thankfully not in my Spongebob Squarepants boxers. Rocking some shorts and a shirt. I like to leave a little something up to the ladies' imagination. :)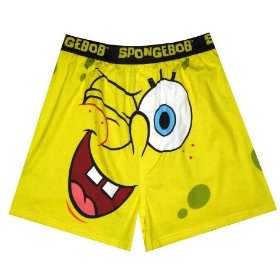 06:00 - Fuck. Me. Are you serious? This is the portion of today's musings where I bitch about being a college football fan on the West Coast. Go time. College GameDay begins. Chris, Kirk, Lee, Desmond, Erin, and crew are in Stillwater today for the Bedlam matchup (Oklahoma @ Oklahoma State for the neophytes in the audience). They would be in Denver fellating Tebow but the Broncos don't play until Sunday. And here we go!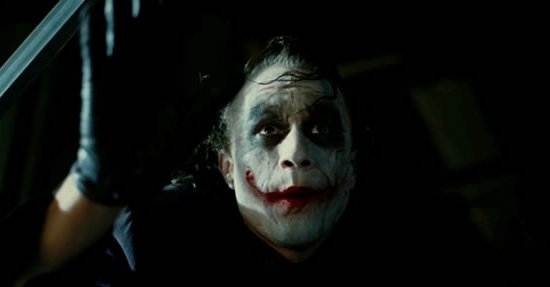 06:01 - I think Greg Robinson stole my teddy bear.
06:15 - Couldn't the guy holding up the Ohio State shirt just wear it? I guess we should be happy he is not shirtless.
06:20 - Erin Andrews now in the hostess chair with Herbstreit in the passenger seat.
06:21 - Inside joke between Erin and Kirk. Kirk's wife just threw a brick at the TV
06:22 - A Todd McShay sighting. If only he had Mel Kiper's hair.
06:24 - An awful lot of slobbering over "Cash" Cam Newton. Did everyone suddenly forget how good Vince Young was in 2005?
06:29 - Matt Millen providing commentary on Michigan vs. Ohio State. He just told Erin that "It's up to them, not us" when asked to analyze where/why Michigan's season derailed. So Erin had to ask again.
06:31 - No Brent Musberger for the UM at tOSU contest. This is an outrage.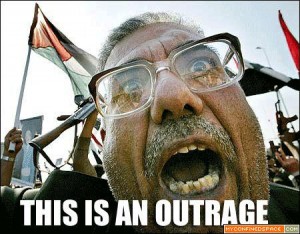 06:46 - More talk about the Buckeyes. I fail to see how their QB has done anything to even consider the most remote consideration for the Heisman. ... Under no circumstances should the words "read" and "think" be spoken in conjunction with Terrelle Pryor (or any other Ohio State football player, for that matter).
06:59 - Over to ESPN for the real GameDay.
07:00 - I'm not sure I can handle a second dose of Big and Rich this morning.
07:06 - The third Reno 911 quip of the day to describe Boise State's loss to Nevada last night. The joke is already getting old.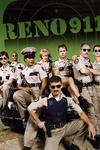 07:06 - Former Florida State coaches should be forbidden to talk about the field goal kicking failures of other teams.
07:12 - Good Lord, Alabama choked yesterday. And I'm not just saying that becaused I picked them in the pool. It should have been 38-7 at halftime. Then Cam went nuts in the 2nd half. Guess that's what $180k buys these days.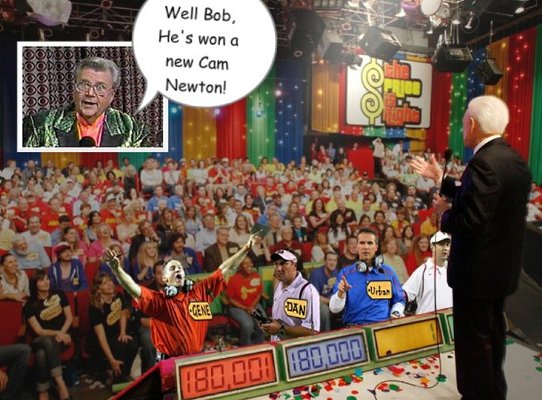 07:30 - The idiot powers-that-be at ABC/ESPN decided that the West Coast should get Notre Dame vs. USC on ABC and Clean, Old-Fashioned Hate on ESPN. So I have to watch the Bedlam contest in standard definition on one of the GamePlan channels.
07:31 - It was hard to listen to Corso before the stroke. It's just sad now.
07:33 - Work time. Ridiculous. Somebody find me a new job.
08:11 - And we're back. Ryan Mallett slobberfest in progress. Let's see how he does against Patrick Peterson and the LSU defense today.
08:16 - I wonder how many Cougar flags would be on the set if Washington State was ever good enough for GameDay to make a visit to Pullman.
08:26 - Helmet sticker feature by Tom Rinaldi. More teams should go back to this tradition. Balijeet disagrees.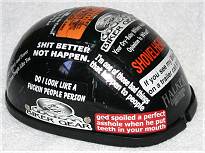 08:44 - Talk of firing RichRod if he loses to tOSU today. Seriously? You want to start over now? How about canning Coach TeddyBear and spending some Domino's Pizza cash to buy a competent defensive coordinator?
08:48 - "Orange Power" chant by the Pokie crowd. Good thing it wasn't a Penn State crowd chanting their color of choice at the annual white-out game in Happy Valley.
08:48 - "You want a little cherry? How 'bout a little KISS?" My how the mighty have fallen.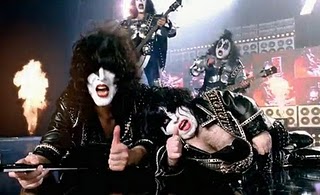 08:53 - Time for the GameDay crew to make their picks. Apparently no celebrity guest today. They should just bring up T. Boone Pickens (pun not intended) to throw out hundred dollar bills to the crowd.
08:59 - Desmond picks Oklahoma State. Corso dons the Pistol Pete headgear and fires off several rounds with a six-shooter.
09:00 - Primary viewing for this morning will be Wolverines-Buckeyes. Until the Michigan defense gives up 30+ in the first half, at which point we will start following Michigan State at Penn State.
09:05 - Time for a quick bank run. I predict 14-7 OSU leading by the time I return.
09:23 - Still 0-0. Ohio State just had their second three & out. Only Jim Tressel could make this Michigan defense look like the Monsters of the Midway.
09:32 - Michigan just followed up a huge Michael Shaw run with a holding penalty, Roy Roundtree's second dropped pass of the day, and a Denard Robinson fumble in the red zone. That sums up the Wolverines' Big Ten play in nutshell.
09:32 - Not sure yet what commercials to be tracking. I guess we'll stick with the usual Chick-Fil-A and Progressive Insurance ads.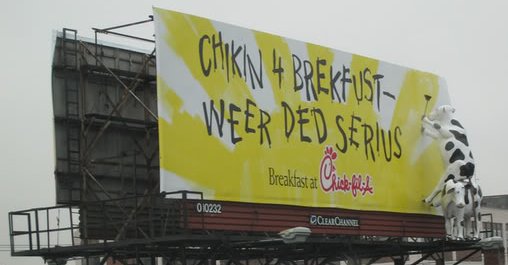 09:41 - I think Jonas Mouton just murdered Boom Herron. Surprisingly no flag on the play. Guess that is mild behavior compared to a lot of things that happen in Columbus.
09:43 - The scoreless first quarter comes to an end. Michigan State leading Penn State 7-3. It's snowing in State College, PA. Mike Patrick and Craig James on the call in Happy Valley; not sure how much I can take.
09:46 - Nobody covered Sparty's receiver in the end zone. Tom Bradley looks ready to kill someone. 14-3 Sparty in the 2nd quarter.
09:47 - Chick-Fil-A mention #1.
09:50 - An illegal motion penalty wipes out a big Michigan pass play. If you've watched a lot of Wolverine football this year, you know this is where the implosion begins.
09:50 - And there's a horrible punt. Matt Millen just coined the term "shankadelic". Buckeyes get the ball on Michigan's 35.
09:55 - Touchdown Sanzenbacher. 10-0 tOSU ... and counting.
10:00 - Balijeet's here. Krispy Kreme time. He wants to know if the Buckeyes new uniforms mean they are leaving the Big Ten for the MAC. It's about the same level of competition.
10:07 - Touchdown Michigan. 10-7 tOSU. The Wolverines need to score TDs, because field goal kicking is quite the opposite of an excellent adventure.
10:10 - Ohio State returns the kickoff for a touchdown to make it 17-7. Just when you thought nothing could be worse than the Michigan defense, here comes the Michigan special teams unit.
10:13 - Connecticut, a team that lost to Michigan and Temple, is going to a BCS game if they win out. Can we just disband the Big East now?
10:16 - Roy Roundtree drops #3 and #4. Balijeet wants to know if he's related to Shaft (Richard Roundtree).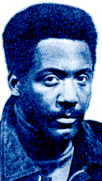 10:23 - Another tOSU touchdown. 24-7. One more and we reach my 30+ points halftime prediction.
10:27 - Denard is hurt - again - and Tate Forcier is in at quarterback. Maybe he can dance his way to victory.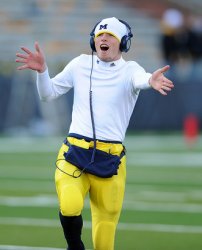 10:29 - Fumble! Big Blue implosion now in full swing.
10:39 - Nice pass Terrelle. A pick at the goal line prevents the Buckeyes from going up 31-7. Something tells me they won't need the points.
10:41 - Shower time. Balijeet moves over to the captain's chair for the next 20 minutes.
10:45 - Balijeet here ... a little giddy with this combination of power and responsibility ...
10:49 - Halftime - they're showing Okie State highlights against the Longhorns ... always nice to see Longhorn struggles ... big game tonight, the battle for Oklahoma.
10:53 - More halftime updates... UConn up 24-10 at the half ... UConn in a BCS bowl with 1 more victory? SMH.
10:57 - Who the eff wants Late Night Cheeseburger flavored Doritos? And what makes the Cheeseburger flavor Late Night? I remember when they came out with Cool Ranch ... I'm thinking Doritos technology has advanced too far ... too far I tell ya ...
11:00 - tOSU-Mich is back ... Matt Millen observes that you must catch balls ... insightful ... Shaft Jr. must do better
11:02 - Tate Forcier terrible pass ... picked off ... did the Buckeye catch it? Doesn't matter, they play on.
11:03 - CRT is showered and ready to resume control ...
11:04 - Showered, partially shaved, and ready to rock-n-roll in my orange Illinois sweatshirt. Bowl eligible, baby!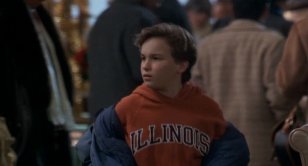 Can't see the line, can you Russ?
11:09 - 31-7 Buckeyes. This game is quickly losing its luster.
11:17 - Denard back in the game. Drop #5 by Roy Roundtree. Might as well have me out there running routes.
11:21 - Terrible holding call during Boom Herron's 98-yard should-have-been-a touchdown gallop.
11:27 - 2562 days - since November 22, 2003 - have passed since Michigan defeated Ohio State. That's not much of a rivalry.
11:31 - A whopping 24-yard punt by Michigan's soon-to-be former 2nd string punter. Shankerrific.
11:35 - Rich Rodriguez quote - "I did not get stupid overnight." My quote - "Then it must have been a long, slow, gradual process."
11:37 - Buckeyes have tacked on two more field goals. 37-7. 1:08 left in the 3rd quarter.
11:44 - Denard out again ... Chorus Line QB running the hurry-up forced a tOSU timeout.
11:47 - Fourth unsportsmanlike conduct on the day for the Buckeyes. One quarter of action (or lack thereof based on the Tresselball philosophy) remaining.
11:48 - The door is open, Dr. Sixta, if you are looking to escape from the in-laws (and the outlaws).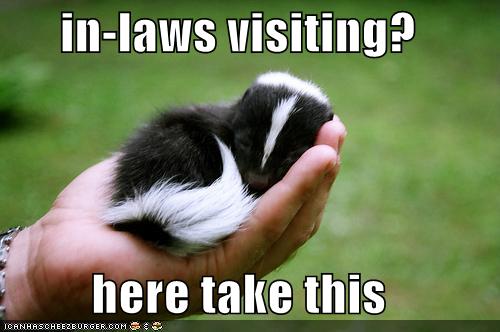 12:04 - If I were an adult - and let's face it, I'm not - I would reconsider going on national TV wearing sweatpants with a wig and red facepaint.
12:05 - The announcers have resorted to talking about random ABC television shows. I've lost interest in the game, too.
12:14 - Furious Penn State rally falls short. Michigan State wins 28-22 and captures a share of the Big Ten title. And perhaps more importantly, the world is spared from Mike Patrick's announcing for the rest of the day.
12:17 - tOSU runs out the clock to finish off a 37-7 win. Over to ESPNU for USF @ Miami, which is tied at 17-17 near the end of the fourth quarter.
12:18 - And as the 'Canes are driving for the winning field goal, Jacory Harris throws an interception. I don't know how Randy Shannon didn't just lose his shit right there on the field after that debacle. I would have been ejected for yelling at my own player were I head coach.
12:21 - Wow, Miami has some fair-weathered fans. I've seen bigger crowds at minor league baseball games.
12:31 - Down go the Hurricanes. Big win for Skip Holtz & Co.
12:31 - Over to CBS for the LSU @ Arkansas game. No Uncle Vern or Retarded Gary today. Craig Bolerjack and Steve Beuerlein with the call. Backup will be Florida @ Florida State.
12:38 - Arkansas ball to start. Chick-Fil-A appearance #2. One play in and Balijeet is already calling the best cornerback in the nation an idiot.
12:41 - LSU forces a three-and-out. Bayou Bengal ball on their 23.
12:43 - Chick-Fil-A appearance #3, followed by an LSU three-and-out. Jordan Jefferson did not look good.
12:47 - Crazy punt muff and subsequent Benny Hill theatrics. Hogs ball on their 3 yard line.
12:48 - Seminoles put up a field goal on the opening drive to go up 3-0 on the Gators.
12:57 - And the Gators answer with a two-minute touchdown drive capped off by a John Brantley TD pass. 7-3 Alachua County Felons.
12:57 - More special teams shenanigans. A short punt careens off an LSU player and is recovered by Arkansas. That leads to a shanked Razorback field goal.
13:00 - Chick-Fil-A appearance #4.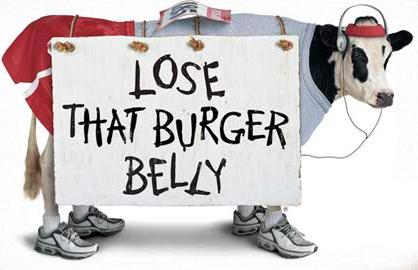 13:04 - LSU misses a field goal attempt. Time for a McDonald's run. Balijeet is in charge.

13:14 - Bains here ... bah! LSU defense fails, Arkansas up 7-0 ... now it's Jarrett Lee time and he promptly throws a backwards pass for loss of 5.
13:16 - LSU 3-and-out. Arkansas ball around their 30.
13:24 - Start of the 2nd quarter ... LSU has a chance to get off the field, Ark with a 3rd and 6 ... and yes! Catch for no gain, Arkansas will punt.
13:32 - Yay, LSU gets a 1st down! Followed by a rare decent pass to Toliver, and another good pass. Competency from LSU's offense? 1st and goal. Ridley drives it in with willpower! 7-7 after the extra point.
13:38 - 3 and out for Arkansas ... LSU fair catch around their 30. Let's see if the LSU offense can keep it up.
14:09 - Dr. T back in the saddle. Tigers-Razorbacks tied at 14 heading into halftime. Seminoles up 17-7 on the Gators. That will endear Jimbo to the FSU faithful.
14:17 - Winning football by LSU: calling timeouts on defense to optimize your chances of scoring prior to halftime. Loser football: fumbling on your opponents 20 yard line after getting the ball.
14:18 - Bad decision by Mallett. Interception by Les Tigres in the end zone.
14:19 - Extreme loser football: LSU gives up an 80-yard touchdown pass with six seconds left to play in the first half. Yikes. Arkansas up 21-14 at half. Florida State rolling the reptiles 24-7.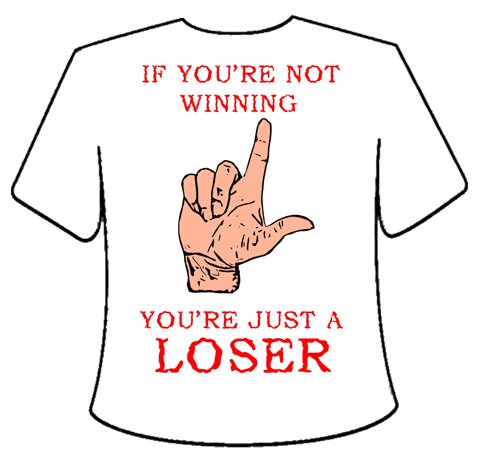 14:35 - Every time I turn the channel over to ESPN the FSU marching band is blaring the Seminole War Chant.
14:40 - It's dark outside, the stadium lights are on, and Jimbo fisher is wearing sunglasses.
14:42 - Ponder to Haulstead touchdown pass. 31-7 Florida State ass-whoopin' the Gators.
14:45 - Chick-Fil-A appearance #5.
14:55 - Purple & Gold kick a field goal to pull within three. Balijeet is rocking back and forth like an addict going through withdrawal.
15:04 - Chick-Fil-A appearance #6.
15:05 - Chick-Fil-A appearance #7.
15:07 - LSU field goal after a botched Razorback punt. Arkansas really putting the special in special teams today.
15:12 - Another Ryan Mallett interception. Steve Beuerlein is doing Lou Holtz impersonations.
15:14 - Balijeet has given up hope on moving the football and is actively opining for garbage pass interference calls. Still 21-20 Arkansas.
15:29 - Our first Progressive Insurance commercial of the day.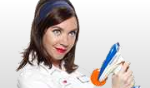 Flo!
15:37 - Touchdown pass by Mallett on 4th & 1. Busted coverage by a freshman DB. That's an awful lot to ask of the youngster. Silence in my apartment.
15:45 - UF-FSU has gone final. 31-7 Seminoles. Jimbo has finally removed his sunglasses. First Urban Meyer loss to the panhandle rivals. Balijeet points out there have been a lot of "firsts" for Urbs and the Gators this year.
15:49 - Utah wins the Holy War 17-16. Minnesota surprises Iowa 27-24. Suck it, Hawkeyes.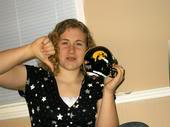 15:50 - Can someone explain to me why the Razorbacks mascot is walking around with a baseball bat?
15:57 - Chick-Fil-A appearance #8.
16:10 - LSU center snapped the ball to LSU's version of TacoPants, effectively putting them out of touchdown range. Jasper field goal makes it 31-23. Balijeet wishes we were at Buffalo Wild Wings to dial up a tie ballgame.
16:14 - Chick-Fil-A mention #9.
16:17 - Razorbacks recover the onside kick and try to run out the clock. An injury timeout prevents the clock from starting on 3rd down. Bobby Petrino's response to the referee? "That's God damn fucking horseshit." You stay classy, Arkansas.
16:20 - Jordan Jefferson fumbleitis strikes on the 1-yard line. Game, set, match. Final score: 31-23 Razorbacks. Arkansas finishes 10-2 on the year.
16:24 - Switching over to South Carolina @ Clemson on The Deuce. Backup game is the Egg Bowl (Mississippi State @ Ole Miss) on ESPNU.
16:31 - Botched punt attempt by Clemson. Seems like we've seen a lot of those these days. Immediately turned into a touchdown by Stephen Garcia on the next play from scrimmage. 9-7 Gamecocks after a missed extra points with 5:00 left in the first quarter. Taking a brief blogging hiatus until Bedlam starts at 5 p.m.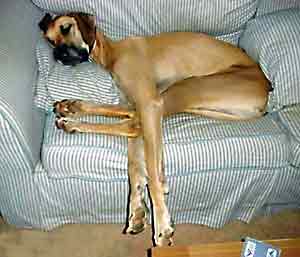 Doggone tired
17:28 - Back from a quick nap. Primary game is now Oklahoma @ Oklahoma State. Musberger and Herbstreit on the call. Sooners out to an early 7-0 lead. South Carolina leading Clemson 19-7 at halftime. Mississippi State up 21-9 over Ole Miss at halftime. Stanford methodically destroying Oregon State 17-0. A win could potentially move the Cardinal into the BCS top 4.
17:42 - Ill-advised throw by by Landry Jones leads to an Okie State interception. Camera cuts to Pistol Pete twirling his six-shooters. I like any mascot that is allowed to carry weapons.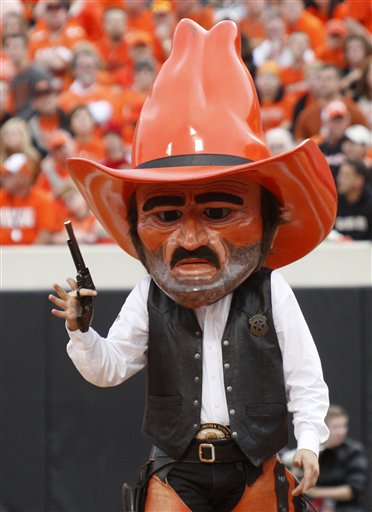 18:04 - Sooners push their lead to 14-3 after an interception and a Landry-to-Broyles TD pass. We're over 12 hours into Rivalry Saturday.
18:10 - Another interception by the Oklahoma defense. Maybe T. Boone Pickens should start "investing" in players in addition to facilities.
18:12 - Pick Rix. Okie State needed that. Now 14-10 Sooners.
18:36 - Amazing tipped interception by the Cowboys. They need a score here to keep pace. Weeden is struggling. 8/19 with two INTs.
18:43 - Big play to Justin Blackmon. Followed up by a Jeremy Smith touchdown run. Stoops should have used timeouts to give his offense more time at the end of the half. 21-17 Land Grabbers with 1:08 left in the second quarter.
18:44 - Balijeet fired up that Ole Miss no longer has the Rebel moniker. He is openly mocking the Black Bears and says they can go back to being "Rebels" against the establishment if they just get rid of the Confederate flag and Colonel Reb.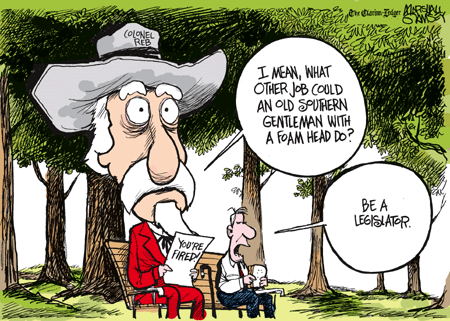 18:50 - Sooners end the half with a 29-yard field goal. It Stoopsie would have used his timeouts on defense he would have had time to go for a touchdown.
18:52 - Erin Andrews basically asked Mike Gundy (He's a man! He's 43!) why his defense sucked so much on the last drive. Nice. Oklahoma leading 24-17 at halftime. Time for leftover turkey sandwiches.
19:30 - Mmmm ... turkey. Georgia has taken a 28-21 lead in Clean, Old-Fashioned Hate. Dawgs coach Mark Richt has blown all his timeouts in the 3rd quarter. The Cowpokes have tied things up in Stillwater. Stanford is pounding Oregon State 38-0. Mississippi State wins the Egg Bowl.
19:35 - Big day?
19:44 - Flipped over to the Notre Dame @ USC meteor game. Contest knotted at 13-13 in the fourth quarter. And surprise, surprise, Shelley Smith is covering the game from the sidelines. She was busy blabbing during an interview with USC AD Pat Haden while a huge USC pass play happened. Her response? "Uh oh."
19:57 - Oklahoma opens 4th quarter Bedlam scoring with a field goal to go up 27-24. ... 'Dawgs lead 35-34 over the Ramblin' Wreck after the Georgia Tech kicker hooked an extra point attempt. Doh!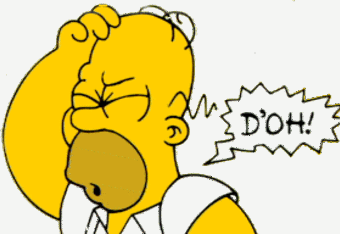 20:05 - Chick-Fil-A mention #10.
20:08 - Miami fires head coach Randy Shannon. Wow. Dark day for the U. Not clear who the frontrunner is.
20:20 - Another Brandon Weeden interception leads to a Sooner field goal. Sooners up 33-24. Georgia just finished off Georgia Tech 42-34. I'm now more interested in who Miami thinks they are going to hire to keep the Hurricanes' ship afloat.
20:27 - Weeden to Blackmon touchdown pass. 33-31 Sooners with four minutes to go. ... USC falls at home to Notre Dame 2-16. The Lane Kiffin era!
20:29 - Bains is trying to explain Mork & Mindy to Marisa. He makes a point that Mork was allowed to wear rainbow suspenders because the sitcom took place before, and I quote, "the gays" co-opted the rainbow.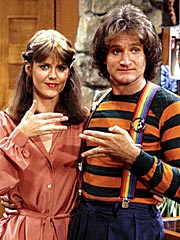 20:31 - Oklahoma State crowd going crazy. Students beating the walls with paddles like some twisted Animal House fraternity. And then silence after 86-yard touchdown pass by Landry Jones on 3rd and 12. 40-31 Sooners.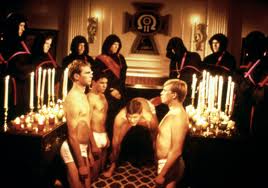 Thank you sir! May I have another?
20:34 - Then Oklahoma State returns the kickoff for a touchdown! 40-38 Sooners. Bedlam, indeed.
20:37 - I'm only watching the game on TV and am getting sick of the Oklahoma marching band playing "Boomer Sooner".
20:40 - And now a 76-yard TD pass by Landry Jones. 47-38 Oklahoma. This is getting ridiculous.
20:47 - Field goal Cowpokes. 47-41 Sooners on top with 36 seconds left in the game. Here comes the onside kick.
20:48 - Recovered by Oklahoma. That's all she wrote. (I'm not really sure who "she" is, but she wrote it.)
21:00 - Fifteen hours on the dot. All the major games are over, so now seems like a good time to call it quits. Thanks to all who followed along today and offered up comments. Until next time - Buena suerte to all, and Go Illini!